We couldn't believe our eyes when we saw the photo of the display.
Jozsef Radacsi at age 70, broke a record that isn't just any. His spectacular performance and passion for cycling is exemplary for all of us, indeed. Achieving it on a Gepida Reptila 1000 e-bike equipped with Bosch engine makes us particularly proud and happy.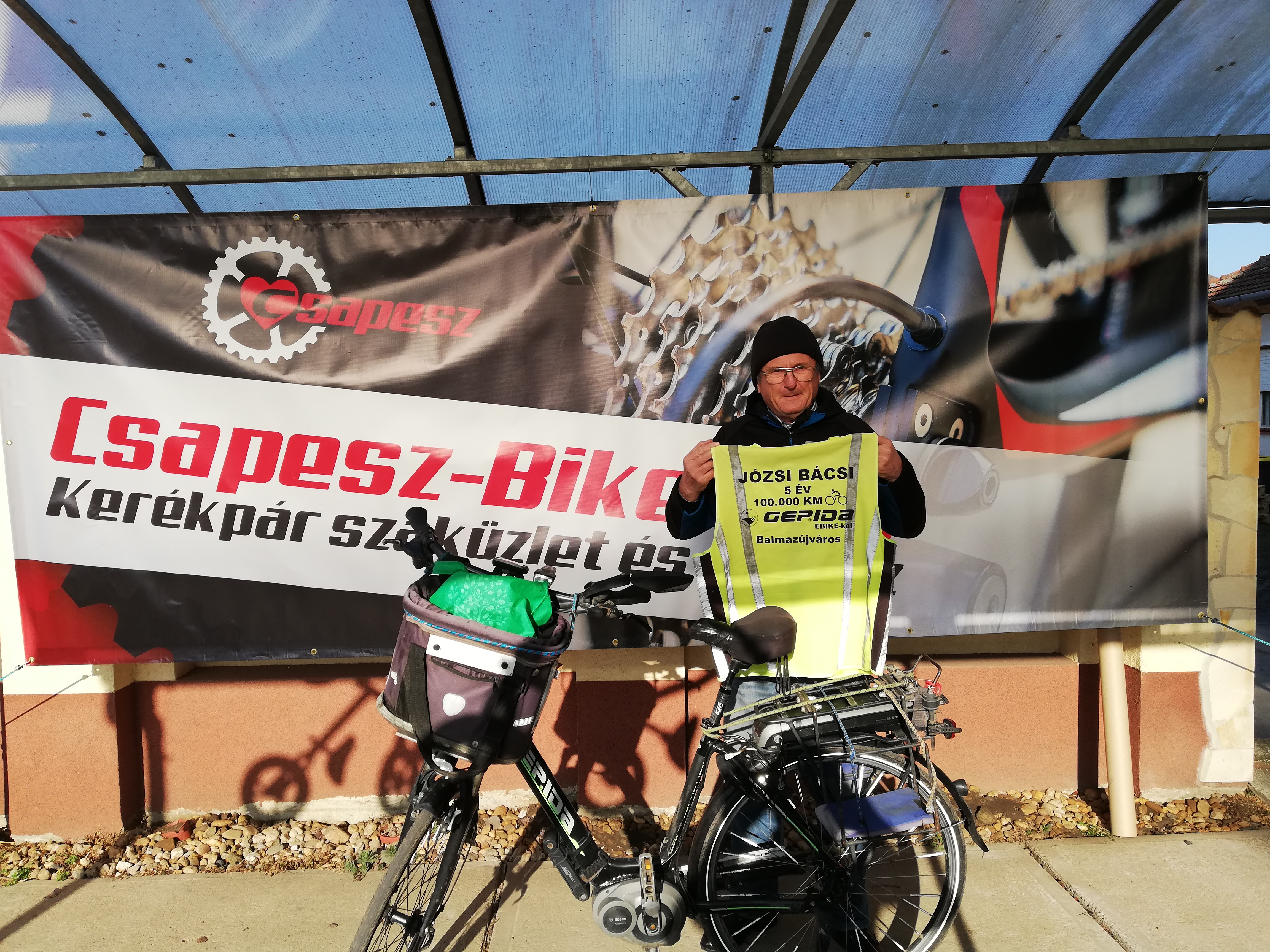 The story began 5 years ago, when uncle Jozsi took part in a bicycle exhibition show, where he met a young fellow, who just get back from an Indian bikepacking tour. In this very moment an idea first, and then the decision came across his mind, to set a goal for himself and to achieve, no less then 100 000km. 
In the beginning he used a conventional Gepida 800 for therapic purpose only, then later he purchased a Reptila 1000 e-bike, from Csapesz bicycle store. Since then he is on the road, non-stop, every day, usually on his own. His favourite routes are Kékes, the surrounding of Tokaj and valley of Bodrog, but the dearest memories his got are from Romanian group tours. 
" I'm that kind of type who sits on a bike and do 60-80km in one go. Setting 20km/h on average for myself that I achieve." 
After 5 years using a pedelec bike, uncle Jozsi clearly knows what advantages an electric assistance can make.
-He says "I take the most use of it when it comes to climbing. If one can manage the performance of the battery, the way back home is always easier. What I do usually is that I leave on ECO mode, so I can save on to my way back which is mostly headwinded" 
For our question, if he would choose Gepida again it was a straight, heart-warming yes, no wonder as the use of the bike over the years, gave us a better feedback than any other highly-reputed international tests. 
 
Speaking about capacity, we must mention that uncle Jozsi prepared well for each of his ride. In his sidebag you'd find inner tubes, tires, electric pump, multitools, changing clothes, raincoat, food, water and some medicines "if someone other need". "As a leader in my profession I get used to of taking care of my people to maintain the secure work environment". All together the bike weights 40-50kg! 
So who is servicing uncle Jozsi's bike?  A team full of professionals at Csapesz bicycle followed the whole journey from 0-100 000km.
Attila Csapó, owner of the store says: 
2016. 05.     Inner tube replacement
2017. 03.     Tire replacement – front-rear hub repair
2017. 09.     Tire replacement filled with tubeless sealant
2017. 10.     Rim replacement
2018. 01.     Chain, ratchet replacement
2018. 06.     Tire replacement
2019. 01.     Brakepad replacement 
2019. 03.     Tire, rim replacement
2019. 03.     Chain replacement, motor bearing replacement
2019. 07.     Rim replacement
2019. 08.     Tire replacement
2019. 11.     Rim replacement, brakepad replacement 
2020. 05.     Rim replacement
2020. 07.     Tire, inner tube replacement
2020. 09.     Rim replacement, brakepad replacement
2020. 12.     Rim replacement, tire replacement
We have all our respect to uncle Jozsi and wish him hundreds of more kilometers and joy on his Gepida e-bike. His next record won't be up to us, we hope that we'll report it at first hand to you again.