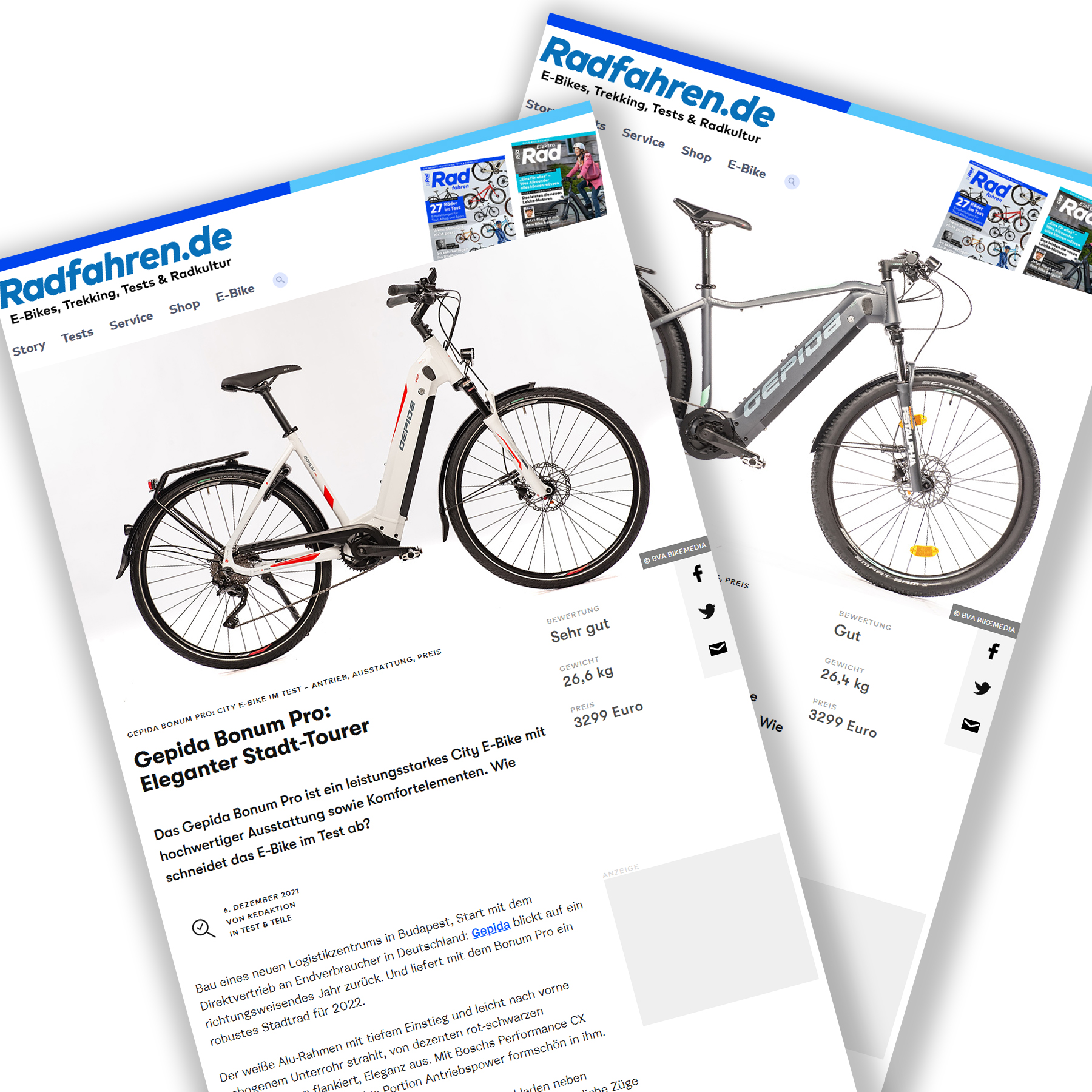 6.12.2021 - Elektrorad Magazin test /radfahren.de/
E-Bike test: Bonum Pro, Ruga Pro Tour
"In December, Elektrorad Magazine also tested two of our e-bikes in the categories of City and MTB. And how did our bikes pass the test?"
Bonum Pro: More
Ruga Pro Tour: More
15.01.2021 - Gepida success story /newsweek.com/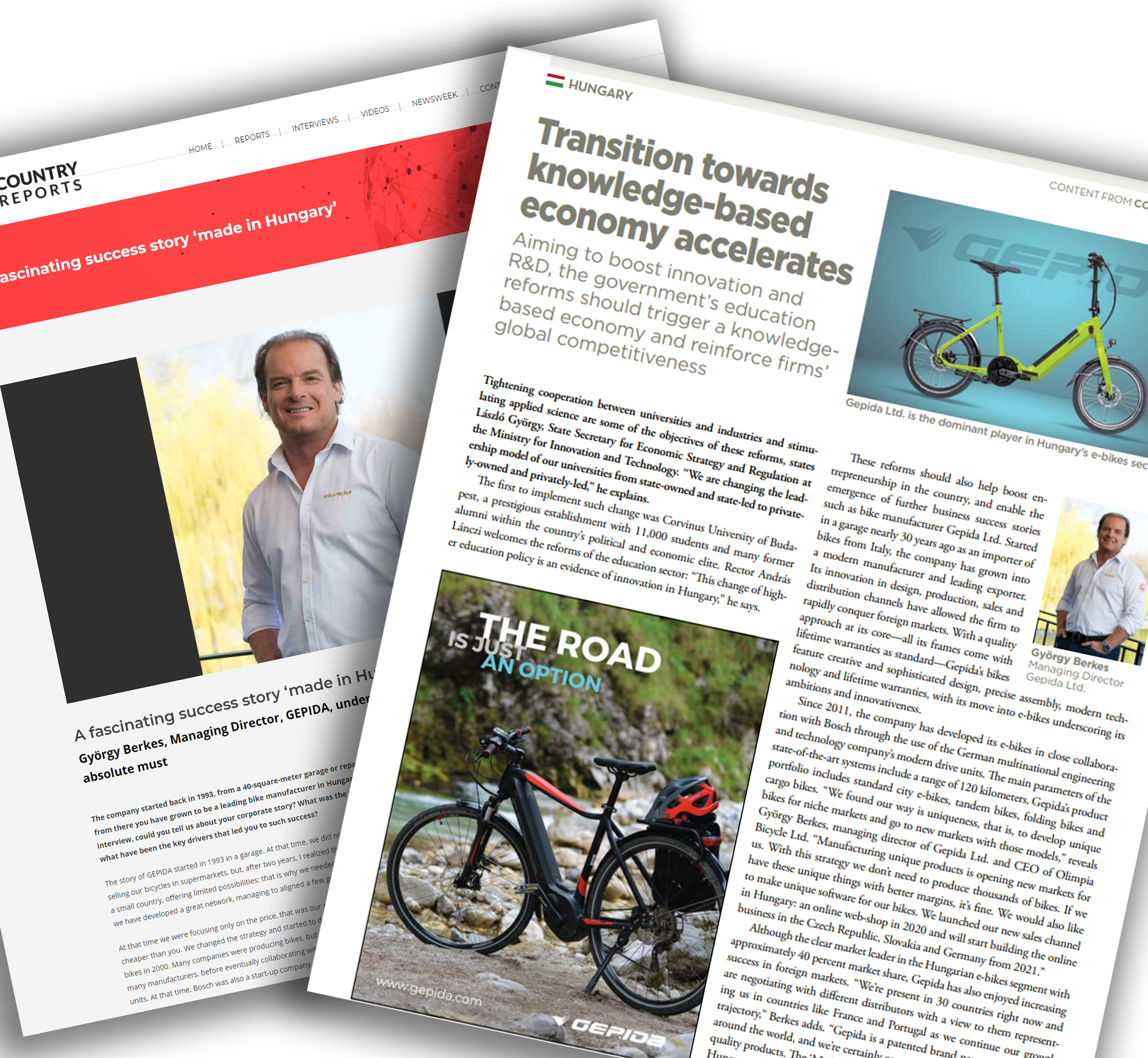 A fascinating success story 'made in Hungary'
Interviews are also available at www.country-reports.net website.
The whole publication is available at www.d.newsweek.com/en website.
2020. december 16 - Állami támogatás / mozgásvilág/ - HU
"Hátszél Gepida E-bike vásárláshoz
Nem lesz több izzasztó munkába járás, kimerítő hazaérkezés, ugyanakkor a kerékpározás élménye sem marad ki az életedből. A City - Urban E-bike jelenleg a leggyorsabb, legköltséghatékonyabb és legbiztonságosabb közlekedési eszköz városon belül. De miért ne lehetne kényelmes is?...."  Tovább
2020. június 12 - Gepida kiegészítők /bikemag.hu/- HU
"Új Gepida kiegészítő-családok 2020-ban!
2020-ra a Gepida új kiegészítő-családokkal jelent meg a kínálatában, a magyar kerékpármárka ezen a téren is szintet lépett és ezentúl még minőségibb fejvédők, lámpák, kesztyűk, kulacstartók, szerszámok közül válogathatunk a gyártó palettájáról... " Tovább
2019. április 12 - Gepida Európa egyik vezető kerékpár gyártója lett /g7.hu/ - HU
"Elektromos biciklivel és festőrobottal nőtt 5,5 milliárdos céggé a Gepida
Egy kerékpárboltból indulva 25 év alatt Európa egyik vezető kerékpárgyártója lett a Gepida, azaz a budapesti Olimpia Kerékpár Kft. A biciklik gyártása ma már nagyon hasonlít az autógyártáshoz: a fejlesztés, a logisztika, a beszállítók koordinálása és a marketing a márkák fő feladata, a gyártás pedig egyre inkább az összeszerelésre koncentrálódik...." Tovább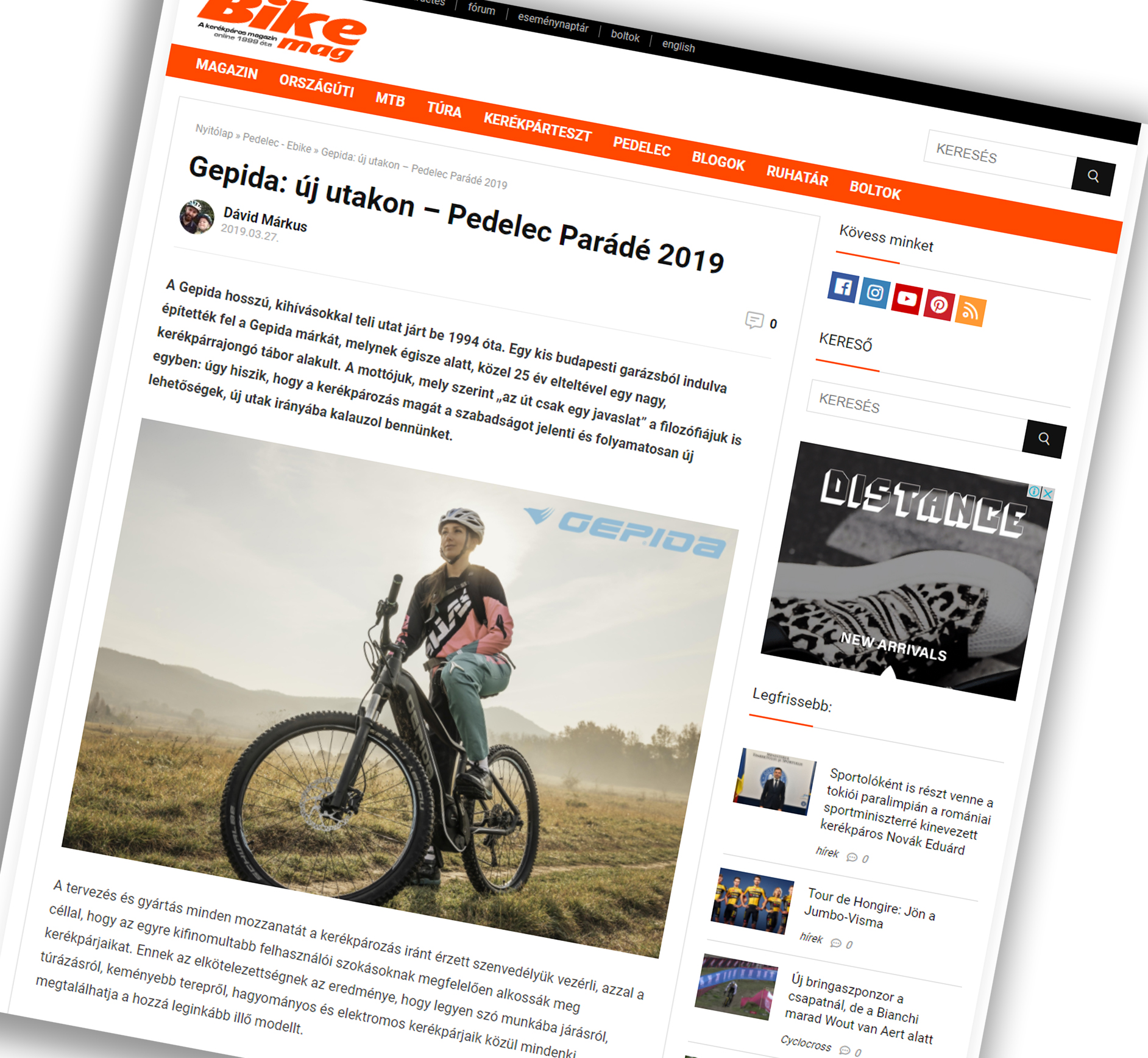 2019. március 27 - Pedelec Parádé 2019 /bikemag.hu/ - HU
"Gepida: új utakon – Pedelec Parádé 2019
A Gepida hosszú, kihívásokkal teli utat járt be 1994 óta. Egy kis budapesti garázsból indulva építették fel a Gepida márkát, melynek égisze alatt, közel 25 év elteltével egy nagy, kerékpárrajongó tábor alakult. A mottójuk, mely szerint "az út csak egy javaslat" a filozófiájuk is egyben: úgy hiszik, hogy a kerékpározás magát a szabadságot jelenti és folyamatosan új lehetőségek, új utak irányába kalauzol bennünket...." Tovább
2018. június 21 - Festőrobot a Gepidánál /Forbes Magazin/ - HU
"Én és a robotom: festőrobotot vett a Gepida, mert nem talált embert
Berkes György, a Gepida tulajdonosa röviden felsóhajtott, amikor a beruházás okáról kérdeztük. "Tavaly körülbelül 800 millió forintos bevételkiesést okozott az, hogy nem találtunk megfelelő festőt a gyárba." A bringás szezon a tavaszi meleggel indul, ha nincs elég ember a gyárban, akkor nem tudják kiszolgálni a megrendeléseket..." Tovább
2017. június 9 - /Forbes Magazin/ - HU
"Tudtad, hogy magyar?
Berkes György vállalkozó típus. Ezzel még nem mondtam semmi meglepőt a júniusi Forbes címlapemberéről: ha valaki bicikligyárat visz 20 éve, ez a minimum. Azért a Gepida tulajdonosa – igen, ez egy magyar márka – maga is azt hitte, hogy viccelünk, amikor a címlapfotózás stúdiójában egy óriási trambulin várta. "Azon kéne ugrálni, mi meg fotózunk..." Tovább