DP C260 display
The aerodynamic, low profile DP C260 gives its information on a color LCD display and is even in direct sunlight perfectly readable. Due to the angle-adjustable aluminium bracket it's perfectly positioned in front of the stem. Operation is via ergonomic satellite shifter pods, which can be placed individually on the handlebars.
Cassis PRO Ultegra DI2 11 with Bafang C260 display
DP C07 display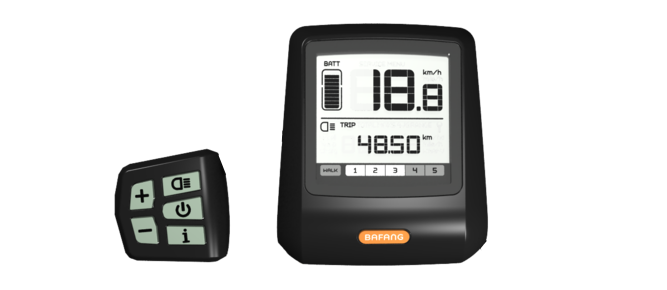 The DP C07 delivers the full key information on a high-contrast LCD screen, positioned at the stem and perfectly readable even in direct sunlight. The control unit sits conveniently on the left handlebar grip for perfect ergonomics. Due to its IP65 rating, water and dirt cannot harm the display. With USB charging port.
Crisia Nexus 7 BAF-M with Bafang DP C07 display

DP E08 display
The DP E12 combines the basic information "state of charge" and "support level" via LED display as well as the control buttons for selecting the support level and the walk-assist in a compact, easy-to-use unit at the left handlebar grip. Due to its IP65 rating, water and dirt cannot harm the display.
Crisia Altus 7 with Bafang DP E08 display
The copyright of the original content and pictures generated and owned by Bafang Electric (Suzhou) Co.,Ltd

.