Who will benefit the most from our e-bikes?
Those with an environmentally aware approach and considering the protection of the environment important
An ideal means of transport for going to work
The older generation who wish to keep fit and enjoy the delight of biking
Businessmen wishing to avoid the awkward feeling of perspiration upon pedalling
Postmen, delivery people and couriers for a convenient yet fast transport
Guests of hotels and B&Bs for a convenient yet active sightseeing
Bike-rental companies
The Bosch eBike systems put you in motion
The Bosch eBike Systems product class is the European market leader of e-bike systems. The "tailwind" provided by the Bosch-driven components helps more than 50 top European bike brands at present to gain momentum.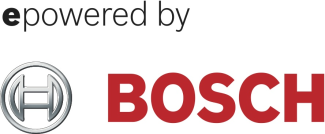 The colleagues at Bosch eBike Systems are continuously improving their unique and powerful solutions for the electromobility sector. They are deeply committed to guide the electric bike universe into the future, assisting tomorrow's mobility with vital solutions. The products and solutions of Bosch eBike Systems will be an inspiration for you as well. Bosch's product range covers everything from engine units of outstanding performance through high-performance batteries to intelligent, intuitive on-board computers. The key to meet the considerable expectations of Bosch in terms of performance and comfort is the perfect harmony between the components.
Bosch is thinking about the possibilities of tomorrow's connected world even today. It is committed to spread modern and forward-thinking mobility solutions, thus promoting the environmental renewal in an economic and responsible way.

The success of pedelec bikes motivated us to broaden our range further. Thus, in 2012, we were the first, as East European manufacturers, to present our pedelec bikes equipped with a BOSCH electric centre engine, which are fully suitable for both dynamic and sporty use.
| Main parameters of the Bosch system |   |
| --- | --- |
| Nominal voltage of the electric engine | 36 V |
| Maximum power of the system | 50 W or 350 W (up to 45 km/h) |
| Battery capacity | 400 Wh / 500 Wh / 625 Wh |
| Battery weight | 1.99 kg |
| With one battery up to | 120 km |
| The all-in-one display uses a CAN-BUS system |   |